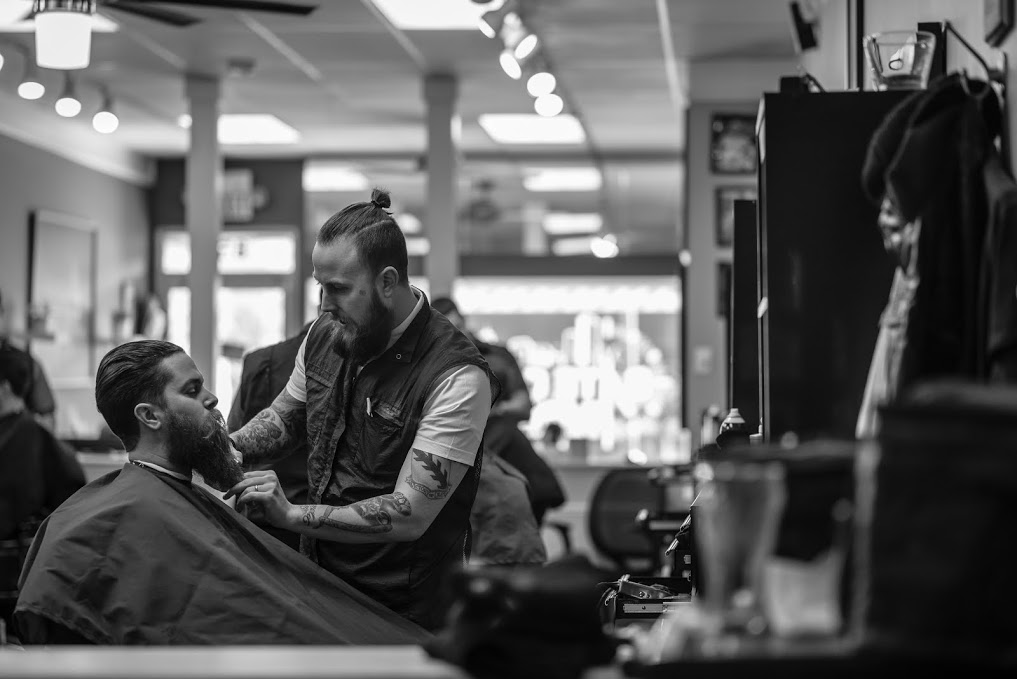 We are bearded men from New Hampshire. We started, like most New England men, with seasonal beards. Our faces were the ying to the trees yang. Every fall as the plants died and the leaves fell, our faces bloomed. Our beards were well established by the time winter took hold. Then as the ground thawed and the earth sprung life we would cast off our beards in preparation for the summer months to come. It just never crossed our minds to keep our beautiful beards year round.
Then things changed. My balls dropped. I was inclined for the first time to let nature take it's course and let my beard grow free. When I told Rick he loved the idea and said he would join me on my new adventure. I have been a carpenter for 14 years now, during which time no one else has cut my hair except my co-founder Rick. He is an award winning barber and more importantly my close friend.
So as the days grew warmer and our face nests grew thicker and longer, our problems with itchiness and overall management grew as well. We began doing research for answers to alleviate our facially charged strife; which is what lead us to beard oils.
Eager to go buy the answer to our problems we headed to the store. Nothing. We went from business to business only to realize that you can't find beard oil on the shelf. We returned home deflated to see what we could find on the Web. Everything we found online was very similar and fairly vague, so we ordered a few to try out.
When the oils finally arrived we couldn't wait to give them a try. Some of them relieved the itching, while others softened up and tamed our beards while some just smelled good. This gave us an idea; we were going to make our own beard oil that was everything a beard oil should be. It would smell awesome, soften the hair, resolve flaky itchy skin, and it would be made from the finest of all natural high grade oils. After all, you don't put house paint on a Ferrari and you don't put cheap oil on your face.
We started off by doing quite a bit of research before deciding on a simple tea tree oil blend. After some trial and error we got the recipe to a point where we were ready for Rick to take it to the barbershop and get some feedback from his clients. It was very well received by everyone who tried it, in spite of the fact that some had never even heard of beard oil. With our passion stoked and our experiment in making oil validated we were ready for the next step.
Which led us to start doing extensive research until we felt we had a firm grasp on all things beard oil. We were motivated to start trying out different scents and more complex blends, but it was getting pricey because we were only using the highest grade, therapeutic oils. We had become obsessed, but were going broke.
Then the beard gods intervened and I had a good friend find out what we were doing and unbeknownst to me turned out to be an expert in homeopathy and essential oils. She not only shared her knowledge, but gave us access to her own oil collection; which was nearly every essential oil we had been researching. We began a painstakingly slow quest to learn about the background of each one, it's properties and then actually working with them. As silly as it may sound, we felt like we were destined to make the best possible beard oil.
Almost the entire next year was spent making different blends and experimenting with what we were learning. Each new batch seemed better than the last and when we thought we had a good one Rick would try it out on his patrons. We would collect as much feedback as we could and then we would return to our "lab" to rework our recipes until we were fully satisfied with these 5 killer blends. We were in no rush and made sure to take our time and enjoy the process as we knew that quality was going to be the backbone of what we were building with Killer Beard Oil. From there we dove head first into every aspect from the bottles to the branding with the same passionate vigor we put into getting every oil just right.
From the very beginning we decided that wherever this went, it was going to be done right and that meant that we use the highest quality ingredients. It meant we take our time in perfecting the blends. It meant that we spend whatever time is needed to make sure every aspect of the product reflected what we agreed to be the very best to ensure that the Killer Beard Oil Brand is synonymous with only the highest quality. We can stand tall behind our product because it isn't just our product, it is a reflection of our passion and ourselves. We are proud to make the highest quality Beard Oil on the market and share it with you! We hope you enjoy and encourage any and all feedback you may have.
Top photo done by: Cam DiCecca - www.camdicecca.com